Kayak the Scenic Waterways of Florida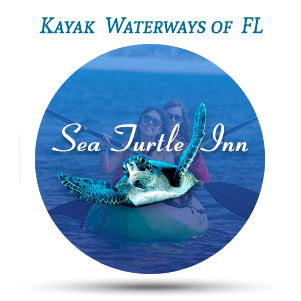 Are you are looking for some adventure activities where you can be in contact with nature, you are in the right place. Vero Beach is the perfect place to kayak. Kayaking is a great way to get close and view wildlife without disturbing it in its natural habitat.
The Indian River Lagoon offers wide open space and is the home of over 4000 species of animals and plants, including Atlantic Bottlenose Dolphin, West Indian Manatee, 700 varieties of fish, 300 species of birds, Loggerhead Turtles and Green Turtles.
Pelican Island, America's 1st National Wildlife Refuge, is a very popular landmark to kayak around and view hundreds of birds. Located 10 miles north of Vero Beach.
Sebastian River is a short-lived but scenic river lined with tropical foliage that takes you back in time as you paddle through "Old Florida" and under large canopy oaks, letting you enjoy the Manatee sightings common. This river is located just 15 miles north of Vero Beach in the city of Sebastian.
Near Sebastian Inlet, there are some beautiful back country areas and mangrove fringed shorelines to kayak. Kayak fishing is also very popular in the Sebastian River Area! The Blue Cypress Lake and THE Stick Marsh are some of the most popular place to go and catch some big fishes.
Kayaking all around Vero Beach area is a great escape for those seeking relaxation while appreciating Florida's natural wonderlands. Take all these activities into consideration if you are looking for some fun activities to do close to Sea Turtle Inn Hotel in Vero Beach.