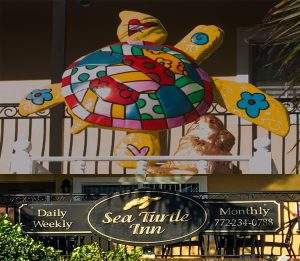 Where is Bailey?
The Sea Turtle Inn has adopted "Bailey", the sea turtle. The cool thing about adopting a sea turtle is that you can follow her on the internet. Bailey left Vero Beach on July 30, 2016, went south to Hollywood, back up to Ft Pierce, then on to the Bahamas. Then she heard about the restrictions being lifted in Cuba and headed in that direction. Halfway there she changed her mind for some reason and started on her way back to the Bahamas.
Click "Bailey's Progress" to see where Bailey is today.
Bailey is an adult female loggerhead sea turtle who was released with a satellite transmitter on July 30, 2016 from south of the Archie Carr National Wildlife Refuge, Florida at the Disney Resort. She measured 100.0 cm curved carapace (shell) length and 88.6 cm curved carapace width. She is taking part in the 2016 Tour de Turtles.
Started in 2008, the Tour de Turtles (TdT) is a fun, educational journey through the science, research and geography of sea turtle migration using satellite telemetry. Created by Sea Turtle Conservancy, with help from sponsors and partners, this event follows the marathon migration of sea turtles, representing four different species, from their nesting beaches to their foraging grounds.
Scheduled to begin August 1st each year, Tour de Turtles will track individual sea turtles, for approximately three months, as they leave their respective nesting beaches and race to complete a "turtle" marathon. The Tour de Turtles competitors will swim with the goal of being the first turtle to swim the furthest distance during the migration marathon. You can get involved by supporting a turtle to help raise awareness about their cause. While we may not know the outcome of the race, one thing is certain: saving sea turtles is a marathon, not a sprint! See the Tour de Turtles at "Tour de Turtles".