2018 Vero Beach Air Show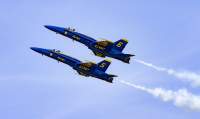 Make your reservations at the Sea Turtle Inn for April 21 & 22, 2018. The Vero Beach Air Show is coming back to town!
VERO BEACH AIR SHOW TICKETS ARE ON SALE NOW!
Article by Brenda Sposato and MaryAnn Ketcham
Hold onto those hats and get ready to FEEL THE NOISE with the return of the Vero Beach Air Show! Tickets are on sale NOW!
Scheduled for April 21-22, 2018 the Vero Beach Air Show brings with it a dizzying array of heart-stopping, jaw-dropping excitement! This unique event comes to town every two years at the Vero Beach Regional Airport, attracting large crowds and giving a huge boost to the economy of Indian River County.
Soar to the edge of imagination as the highly-skilled pilots of the U.S. Navy's elite Blue Angels' squadron brave the wild blue yonder.
It's been nearly four years since the Blue Angels visited Vero Beach, FL. In 2016, the group announced the cancellation of their flight demonstration at the Vero Beach Airshow due to the death of Blue Angel #6, Captain Jeff Kuss. Many stood in solidarity as they paid their respects for the loss of a true champion.
The show includes additional performances by Rob Holland Airshows, Dan Buchanan Airshows, Geico Skytypers, Bill Stein Airshows, Prowlers of the Pacific and Team Fastrax ™. So buckle-up and get those tickets now at eventbrite.com. Click on the browse events page and search for 2018 Vero Beach Air Show to explore ticket options.
"The Vero Air Show is not just for thrills" explains Marty Zickert, the Blue Angels Liason for the 2018 Vero Beach Air Show and a Past President of the Veterans Council of Indian River County, "proceeds benefit hometown charities like the Veterans Council of Indian River County and three local Exchange Clubs."
For tickets visit eventbrite.com and look for the 2018 Vero Beach Air Show.
For more about the air show, see www.veroairshow.com.